Pulp & Paper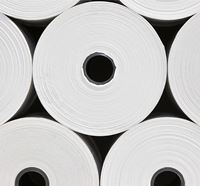 Water is at the heart of the paper making process.

Water plays an important role in the paper manufacturing process of which a key step is to drain/dewater the pulp. To reduce the volume of water used, significant efforts have been made in terms of closing the circuits. The effluent also requires proper treatment before being discharged into the environment.



The inorganic coagulants and flocculants of Feralco Environnement (aluminium sulphate and polyaluminium chlorides of the Aqualenc® range) are central in the processes of water treatment applied by the paper industry. They can:
prepare the water before applying it in the processes – raw water treatment
monitor the anionic pollutants, fix sizing agents and improve the retention and drainage at the wet end of the paper machine
treat the effluent before discharge into the natural environment


For more information, please contact us.