WET END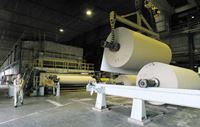 Feralco relies on its experience in the chemistry of aluminium salts to offer products tailored to each configuration of the wet end. 

The aluminium salts contribute significantly to the following functions:
sizing: as a component or additive of the sizing system
retention of fine material and charge
fixing of starch mass
capture of contaminating anionic charges
white water purification
For each of those functions there is an optimum combination of dosing point and quantity.
For further information, please contact us.